Student Swag Giveaways for Recruiting and Admissions, College Fairs, Orientation, and More!
BRANDING is HUGE for colleges. Positive branding helps every facet of the school: academics, sports, enrollment, recruiting, endowments, image, etc. 
It is the public "SPIRIT" of your campus. Your best ambassadors for marketing and branding are your prospective students and current students. If they are wearing a t-shirt or product with your school logo on it they are positively spreading your word and brand. They are doing it to their peers, who are your audience.  They post pictures everywhere with your brand. It's the best advertising that you don't for.
"I want to put your T-shirt on!" That's the statement and feel you want. BookWear® has a creative and special way that drive for identity. It is tangible, a very important word in this world of electronic communication and virtual reality. Those mediums cannot "GRAB" someone like "TANGIBLE" can. This is a real book-looking package that a person picks up. On the cover is your "Congratulations" and "Welcome" message. Mail it like a postcard (we'll mail it for you). 
BookWear® offers endless possibilities for creative swag ideas for college students. Here are eight concepts to inspire your 2020 recruiting strategy.
1. T-Shirt in a Book
T-SHIRT in a "BOOK"! This is a very fun way to get a t-shirt into the hands and onto the body of prospective students. The shirt is printed with your logo and then compressed into a little brick of cotton. This is then inserted into a "book" cover. The front cover, spine, and back cover of the book is customized with your graphics and message. 
When the recipient gets this, they will read your message and open it! It creates surprise and mystery. It adds incentive to put the shirt on and identify with your brand. The message is often "Welcome to Campus!" or "Congratulations on Your Acceptance!" Make a Splash with your message in the creative BookWear® package. Mail BookWear® like a thick postcard, or we'll mail it for you.
2. Sunglasses in a Book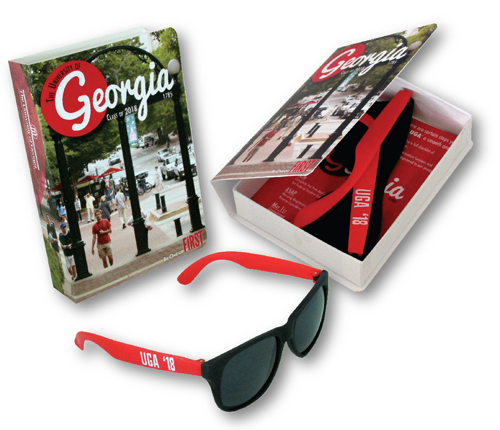 "Your future is so bright you'll need shades!" That's an apt title to this book and a great line to prospective students. The book cover gets your graphics and text on it and inside is a pair of sunglasses with your logo on them. Cool! Your message gets seen and so does your brand (on the sunglasses) as the recipient wears them. 
3.  Flag in a Book
Raise a flag and lift campus spirit. This is a great gift for an incoming student. Your logo will look good on either the 12" x 18" small flag or the 22" x 36" large flag. A full-color print on the book and the flag is included. Polyester fabric with two grommets on the left side for hanging the flag.
4. Custom Puzzle in a Book
"You're the missing piece" is a fitting title for this book with a puzzle inside. It's a full-color image on the puzzle and on the book cover. Purdue used it at the groundbreaking of a new engineering building. Use it for a capital campaign by mailing it to potential donors.
5. Smart Socks
These could be called "Smart Socks" because they're in a book. The cover has your message and graphics on it. The recipient doesn't know what's inside and is compelled to read and open it, making it an effective communications tool. The socks are fully customizable and so is the book. The front cover, spine, and back cover of the book are yours to compose. Get your marketing, recruiting, and promotion off on the right foot with this novel book/sock combo.
6. Pillowcase in a Book
This product is for people who bring dreams to reality. "Dreams Made Real", "Dream Big", "Realize Your Dreams", "Rise and Shine" "Where Dreams Come True"; all of these make great lead lines from a campus to a new student with this pillowcase inside the book. Your brand is printed on the 20" x 30" pillowcase as well as your graphics and text on the book cover. Better than a dream, this story and gift are real and will yield a significant return. It's novel and creative.
7. Luggage Tag in a Book
Travel the world in style with an embroidered luggage tag on your bag. This one is embroidered on the front and has a clear pocket on the back for a card with contact information. It's easily seen and comes with a rubberized attachment loop. The recipient will remember this book for a long time.
8. Surprise is in the Bag
Make your promo "POP!" Whether it's recruiting or marketing, this package literally "POPS!". It has a customized bag of microwave popcorn inside. Put a "Pop Quiz" on the bag with instructions to go to your website for answers. That will drive traffic to the site, especially if there's a prize offered. This makes a fun and surprising package.
Get In Touch With Us! Call: 800-332-3131
---
---
Why BookWear for College Student Swag?
Don't settle for run-of-the-mill swag ideas for college students. New and prospective college students love t-shirts and promotional products emblazoned with a logo, especially of universities and college campuses. And those college campuses love having students and prospective students parading around publically with their logo on display. Such swag ideas strike an emotional connection with college students, and they make for terrific marketing, recruiting, and orientation giveaways for colleges and universities!
So how to most effectively make this match? By making it a fun surprise; put the college or university story on a "book" and have a compressed t-shirt inside. BookWear® puts the campus photos, graphics, logo, and message on the "book" cover and a surprise gift inside (t-shirt or 30 other gifts). This is a patented, fun, and effective way to bring a smile, story and SWAG gift to the student.
Hundreds of college campuses use BookWear® to tell their story. Many of the mail this "book" out like a thick postcard. It lands on thousands of students desks and gets noticed, read, and opened, making it very effective for marketing, recruiting, and promotions. The college can design the package or BookWear® will create it for them. See how Calvin College leverage BookWear as one of the most brilliant swag ideas for college students.
Effective College Student Recruiting Giveaways
College student recruiting giveaways can empower a university's recruitment strategy and stimulate the potential to acquire quality students. As an ideal supplement to any school's college recruiting strategy, student giveaways provide a tangible means to engage with prospective college students and make them feel as one with the university.
"Surprise is the most powerful marketing tool." Harvard Business Review, 2013
The most effective giveaways for college students are not only practical items, but surprising and meaningful gifts that contain inspiring, uplifting, and motivating messages.
If something like this seems like the ideal supplement to recruit more college students, then consider BookWear® college giveaways to be one of the best investments you'll ever make.
What is BookWear®?
You may be wondering what is BookWear®? BookWear® is a "book" that tells your unique story. The photos, graphics, and content of your college or university are printed on the cover.
Inside BookWear® is a surprise giveaway which can be a number of useful items that college students will love, like compressed t-shirts, laundry bags, sunglasses, socks, and more. But what makes BookWear® truly better than most college student giveaways is that it can be custom-tailored with any logo, design elements, messaging, and more.
Choose from 24 awesome gifts to go inside BookWear®. Mail your giveaways to new or prospective students like a thick postcard. You can do the mailing yourself or let our experienced team here at BookWear® handle the process for you. Our goal is to fulfill every order with 100% customer satisfaction.
For more ideas, see University & College Case Studies.
Contact your preferred distributor for BookWear® information and ordering. If you need a distributor referred to you please email info@bookwear.net. Thank You!
ASI #41044 • PPAI: 233342 • SAGE 69978 • UPIC: Book1122
About the Author:
Jack Gyr is the founder of BookWear®. He has helped countless colleges and universities develop highly effective college student recruiting strategies using BookWear®. You can reach Jack by contacting BookWear® directly, or connecting with him on Facebook or LinkedIn.